Holy Family Parish, Northeast Mallee was formed by joining neighbouring parishes that had already been working together and sharing a priest. It covers the former parishes Swan Hill, Sea Lake and part of Quambatook. After several years of consultation, Bishop Paul Bird confirmed the formation of the new parish on July 1, 2018.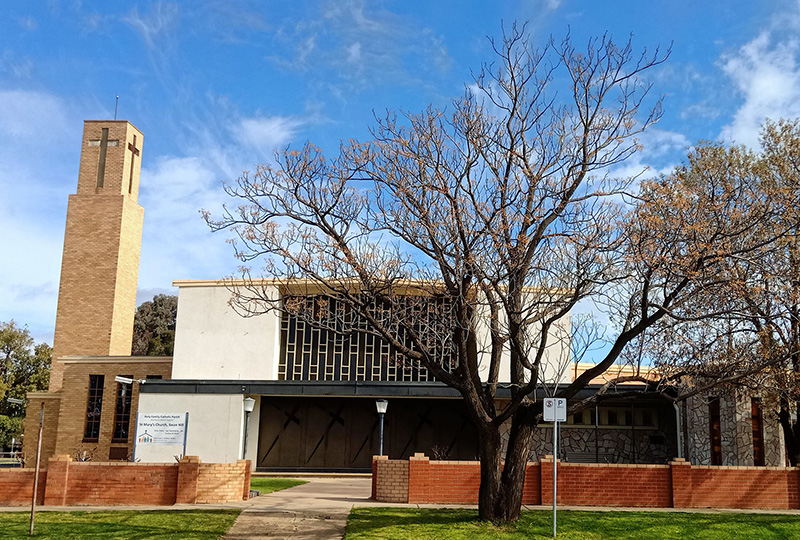 The parish serves the region bordered by Quambatook in the southeast, moving west through Lalbert and Culgoa, then along the Calder Hwy through Sea Lake as far north as Nandaly. From there it cuts back east across to Piangil then follows the Murray through to Swan Hill, continuing out towards Lake Boga and then back south again to Quambatook. Our parish is served by three schools; St Mary's Primary in Sea Lake, St Mary MacKillop College and St Mary's Primary in Swan Hill.
Our parish is blessed with a diverse mix of people from all different backgrounds; from retired farmers with family roots in the region going back generations to skilled migrants of many nationalities. Each bring their own gifts to our parish.
The celebration of the Eucharist is at the heart of our Parish life. The lockdowns and restrictions we have had to navigate over these last two years have therefore been very hard for us, severely limiting our ability to gather together around the altar. I am deeply moved however by the faithful persistence so many have shown through the ups and downs of this pandemic, and the efforts of so many to keep people connected through this time. We hope this website in its own way will help people stay connected to our parish in the days and years ahead.
New to the Parish or keen to get involved?
If you are new to our parish or would like to reconnect, we would love to touch base and help welcome you to our parish. Feel free to pop by or to introduce yourself at Mass, or you can contact us on 50324144 or northeastmallee@ballarat.catholic.org.au. We also welcome any requests for baptism, marriages and other sacraments.
If you are looking for opportunities to volunteer in the community, perhaps we might suggest volunteering for 'The Good Kitchen'. This is a fantastic local initiative that serves meals for those in need every Tuesday evening from our parish function centre. If you would like to get involved, you can make contact through agoodkitchen@gmail.com